Can the US make M&A great again?
19 December, 2016
Posted by:

Bert.Kroes

Category:

M&A IT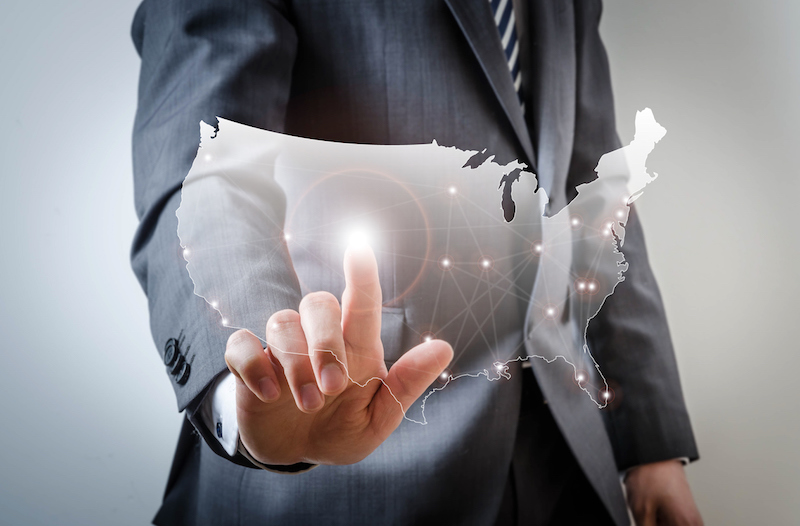 Despite ominous predictions after Brexit and the unconventional American election campaign with unexpected results, we are approaching the end of the year in one piece! Even more, according to the measured dynamics in the IT market, 2016 will be a peak year for M&A.
Before we look at the Dutch market we would first just like to dwell on the United States. The United States has played a leading role as an indicator of deal flow in IT and many online tools and software that we use every day for personal use and business come from the US. These tools are usually based on Cloud compliant software and SaaS business models. Cloud and SaaS push the M&A activities and remain important in the US but also in the Netherlands and neighboring countries.
Cloud catalyst
Cloud is an important catalyst for the growth of the software market. It gives IT companies a chance to look across borders and operate in international markets. The strong growth in software has attracted the interest of private equity in the Netherlands, made apparent by the continuous series of acquisitions by local and international private equity in the Dutch market. In the IT software sector there is clearly more growth, though the services market has also received a boost through the Cloud software transformation.
Mega Deals USA
That it's going remarkably well with the deal flow in the US is for a large part noticeable through the mega-deals of the year. Megadeals have reached a new high with the gigantic and spectacular acquisition announcement by telecom operator AT&T of content provider, news – and entertainment company Time Warner for 85.4 billion dollars but other US megadeals didn't go unnoticed like the acquisition of LinkedIn by Microsoft (26 billion dollars), Netsuite by Oracle (9.3 billion dollars) and the recent acquisition of enterprise software company Deltek by IT service provider Roper Technologies ($ 2.8 billion).
The Netherlands has long been of sporadic interest to the US, but this year, US companies and investors more than previous years have been active in the Dutch market by investing in particular in Dutch startups like Gitlab, innovative investments in mobile like the acquisition of MobGen by Accenture and of course the billion dollar acquisition of Dutch pride NXP by Qualcomm.
Fintech
For many US IT investors, Fintech is the go-to-market. Innovative apps and platforms in the field of financial services remain interesting and the banking world is watching with interest what practical applications work best but are mostly still waiting and not striking . However, by far the largest player in the Fintech market is China with a market size of more than 1.8 trillion dollars where the Fintech service revolve around Chinese IT superpowers Baidu, Alibaba and Tencent (BAT). E-commerce leader Alibaba is expanding at a rapid pace in Europe and presents itself already in the Benelux market as a competitor of Amazon, Google and Apple.
In the Netherlands, CIC has been active this year in the Fintech market with the sale of credit management software company Credit Tools to Main Capital Partners (merger with OnGuard).
Consolidation Internet agencies
What we predicted in 2014 now finally seems to happen, the consolidation in the internet agency world. Knowledge and expertise in the Netherlands in the field of digital marketing, user experience & e-business/ e-commerce is high and the time seems right for the major Dutch internet agencies to join the International IT service providers or ad agencies. It began in the third quarter with the acquisition of eFocus by the French company Valtech and Q3 US based Cognizant came with the acquisition of Mirabeau. In December, we also saw the acquisition of e-commerce bureau Eperium by Salmon (WPP). We expect that consolidation will continue next year and that major IT service providers or ad agencies will add knowledge and expertise in the field of digital marketing through acquisitions.
IT infrastructure, managed services and digital workstations
Much has been said already about the coming trends and developments in the Dutch IT market, but much less about the consistent acquisition dynamics that we see every year in IT infrastructure and managed services. This year there were again several transactions that took place including the acquisition of Open For Support by Broad Horizon, the acquisition of Computication by RAM Information Technology and Cegeka also acquired DanubeIT to strengthen its position in Austria, Germany and Switzerland.
There are clear links with M&A from the hosting sector in which connection is made to IT services aimed at establishing infrastructure and security software in data centers.
Active M&A policy is needed
As a result of increasingly intelligent Cloud Software and continually advancing process automation, core activities of many businesses are becoming increasingly software dependent. For many larger companies the question is, buy or make it yourself? The nature of many businesses is changing, they are becoming more and more IT companies. A more active M&A policy is therefore necessary within the IT sector and company end users.
Outlook 2017
For 2017, we see more and more blurring of the boundaries between typical M&A policies of IT companies and non-IT companies. Traditional non-IT companies such as banking, energy-, accountancy-, production- and healthcare companies are working on a digital transformation of not only back office and front office but also core activities. They are therefore actively looking for IT acquisitions to further develop this knowledge in-house to expand their own products and services portfolio, bringing a higher level of quality and therefore a more competitive offer to the market. Frontrunners in this area are already visible in the corporate world such as GE, Siemens and Philips.
For CIC this means a broadening of our scope beyond traditional IT markets when looking for strategic buyers and sellers. We expect to advance our business further in this field in 2017 and beyond.